AirThings Corentium Plus Digital Radon Monitor Review: Best Radon detectors for Commercial Or Professional Use
Designed with multiple states of art sensors, Corentium Plus Digital Radon Monitor records just anything and everything you would need to measure the radon levels in your commercial space.
WHAT IS AIRTHINGS CORENTIUM PLUS A DIGITAL RADON MONITOR?
Corentium Plus Digital Radon Monitor is a sophisticated commercial-use radon detection device that's not only just convenient but also accompanies a powerful, accurate, and detailed working mechanism. For official testing, this device can be used everywhere.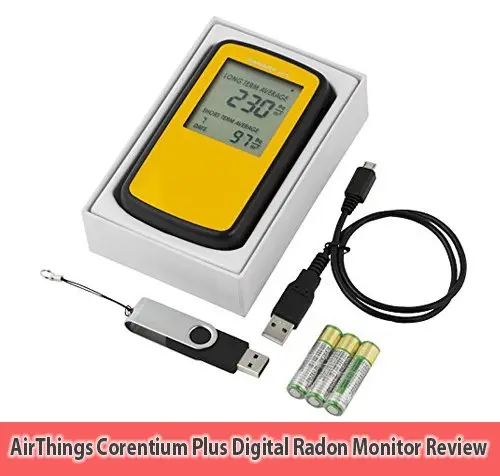 HOW DOES CORENTIUM PLUS DIGITAL RADON MONITOR WORK?
The corentium plus model also samples the indoor air of your commercial space and gives out professional detailing. Just like corentium pro, this model works using a passive diffusion chamber that calculates radon levels with the help of alpha spectrometry and the silicon photodiode.
The CRA (Corentium Report and Analyze) software easily lets you as a user download all the data onto your PC. This data can later be accessed; edited and custom reports can also be generated according to your needs.
SPECIFICATIONS OF CORENTIUM PLUS DIGITAL RADON MONITOR 
LCD Screen
10 Year data storage capability
2-year battery life
10-year device life expectancy
Determines both short-term and long-term averages ranging from one day to seven days or over a year
Notifies about hourly readings as well
Equipped with humidity, temperature, pressure, and tilt sensors
Micro USB connectivity
Excel-compatible and user-friendly CRA (Corentium Report and Analyze) software
Pre-calibrated instrument
Makes use of three "AAA" batteries
BENEFITS OF USING AIRTHINGS CORENTIUM PLUS DIGITAL RADON MONITOR
CRA software comes free for the user to download the data from their device
Enables converting all the data to "CSV" file format compatible for viewing in Microsoft Excel
Pre-calibrated device
Detailed hourly reading
Precisely understands when there are fluctuations in radon concentrations
The display can be turned off while measurements are taking place
WHAT'S NOT GOOD
No wireless connectivity (mobile app or Bluetooth)
No tripod or anti-theft slots
ABOUT AIR THINGS
Airthings manufactures only accurate and user-friendly Home & Commercial radon detectors that provide the most precise results for protecting your health and promoting safety.
Established in 2008, Airthings is a Norway – based technology company that develops and manufactures products to easily identify and monitor radon levels in the indoor air. With the mission to ensure that people around the world take control of their air quality, Airthings safeguard's your homes and business spaces. It gives you affordable, simple, and accurate solutions.