Here we bring to you the Airthings Wave radon gas detector Review, which is best for Home use. This device monitors the radon levels of indoor air quality. A close-range gesture in front of the sophisticated-looking Wave activates an indicating light to alert the users of their home air quality. A real-time status can easily be accessed over the supported mobile app which get's connected via Bluetooth. The Airthings Wave is a radon gas detector that's developed for home usage and is for every age user.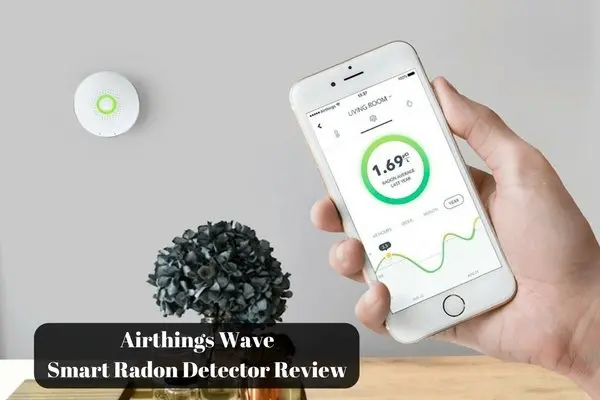 Airthings Wave Radon Gas Detector Review
Radon gas is one of the most critical components in your home that destroys indoor air quality. But Wave perfectly fits in every home and can be comfortably utilised by each user. Supporting a battery life of 1.5 years and displaying results in just an hour, Wave is accurate, unaffected by external factors, is efficient in what it has to go along with visually indicating radon levels through tricolour LEDs!   https://www.youtube.com/watch?v=NiEQiRyRJLI
What is Airthings Wave Radon Gas Detector?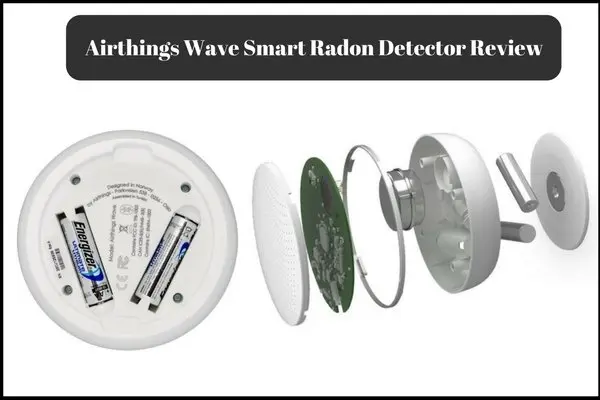 Airthings Wave Radon Detector is an innovative and Smart radon gas detector that effectively works in diagnosing the radon levels in your home surroundings. Functioning with or without a smartphone you simply wave a hand in front of the detector and effortlessly get a visual indication of the radon levels. In the end, you get detailed statistics displayed on your smartphone or tablet through Bluetooth connectivity.
How does Airthings Wave Radon Gas Detector work?
The device is capable of bringing light into darker places. Yes, for the first time ever you would be able to see the radon levels even in dark! A simple palm wave gesture in front of the detector and you will get a warning sign about the radon gas intensity of that particular area. This gets done in the form of a ring light that flashes three different colours to indicate various levels. The "Green" colour light displays healthy radon levels, the " Yellow" light warns you of temporarily high levels whereas the  "Red" light indicates dangerously unhealthy radon levels. You can very easily mount waves to the walls or ceiling of your house and start the device by putting in two AA batteries. There are absolutely no hassles of wiring the device. All you need is (single) screwing the device to the wall and thanks to its potent magnets (built-in) they keep the wave connected with the base. Download the application, connect via Bluetooth and Wave is good to go!
Airthings Wave Radon Detector Specifications
Wave is designed specifically for home users
Easy installation
It's Affordable
Detailed hourly reading is provided by the device
One day to seven days or a year's average reading is displayed
Battery-powered, 1.5-year life
Built-in temperature & humidity sensors
Makes use of digital sensors
Can be run via iOS and Android apps providing wireless connectivity
Seamlessly allows for Bluetooth connectivity along with automatic updates
Intuitive colour-coded visual indications are set
Emits an audio alert when detecting radon levels and even on low battery
Wave is available at the same price as that of Airthings Corentium Home
Benefits of Using Airthings Wave Radon Gas Detector
Provides Bluetooth connectivity
Longer battery life
Imperative and a significant differentiator with the real-time data provided
Unaffected by humidity or any other external factors and radiations
Offers visual indication for warning against increasing radon levels and instant visibility even under low to no lighting conditions
Determines the potential impact or mitigation after continuous monitoring
The user gets notified via mobile app only when he/ she is within a radius of 50 feet
At this price point, Wave gives you more features than the Airthings Corentium Home radon detector
IoT-enabled sensors also make it worth the $200 price tag
What's Not Good
No pressure, tilt and accelerometer sensors
Does not support extra storage facility
You do not get USB connectivity
A little expensive as $200 is a lot of money for simplistic features
About Airthings
Airthings manufactures only accurate and user-friendly (Home & commercial) radon detectors that provide the most precise results for protecting your health and promoting safety. The company works with a mission of having every home radon free and making the detection process more prevalent, simple and affordable! Established in 2008, Airthings is a Norway – based technology company that develops and manufactures products to easily identify and monitor radon levels in the indoor air. With the mission to ensure that people around the world take control of their air quality, Airthings safeguard's your homes and business spaces. It gives you affordable, simple and accurate solutions.
Frequently Asked Questions for Airthings Wave Radon Gas Detector
Q1.What does the detector consist of?
Answer:1.  Power indicator
Flashing dot every 20 seconds
    Green:  battery level okay
    Blue:  Bluetooth connectivity active
    Red: Replace batteries     
 2. Light Ring
    Visual indication of your air quality levels.
    Green:  Good
    Yellow:  Warning Inlet
      Red:  Danger
 3. Motion sensor
4. Air inlets – It is the entry point for the air that is to be tested for its radon levels
5. Audio:  The device can give to you an audio warning if your air quality levels are infringed on the infringed the recommended amount.  In the caseIn case, of audio alerts, simply wave in front of the device to doze alerts. 
6. Wave sensor:  Simply wave in front of your detector to actuate the light ring.
Q

2. Is it possible to pair two monitors and view both of them in the app?
 Answer: Many devices can be paired and seen on one app. This will help in switching devices and comparing graphs.
Q

3

.  What is the monthly fee for this service?
  Answer: There is no service fee. The device acts as a stand-alone unit where waving your hand over the front of the device and green, yellow or red ring lights up corresponding to the level of radon detected. Or, you can download their download app, which provides a numerical readout of radon, temperature, and humidity of the area you're present in.
Q4.

What kind of batteries are needed for

Wave 1st Generation Smart Radon Detector
Answer:
Standard AA batteries. It comes with AA Lithium, but you can use Alkaline batteries, but AA Lithium will last longer.
Q5. Is it mandatory to have an account on Airthings?
Answer: Yes, it is necessary to have your account else you will not get connected to the detector. Enter a valid email address. The data will be uploaded directly from the Wave into the cloud automatically.
Q6. How can you change it from Celsius?
Answer:
Yes!
The app gives you the option to select either "Metric" or "United States" for the "Measurement Units" locale. This selection will determine whether the temperature shown on the display be in Celsius or Fahrenheit. It will also determine the units for radon (pCi/L or Bq/m3).
7. Does it have Bluetooth security?
Answer:
It has to be paired through the app; you have to log in to the same account to access the paired device. through Bluetooth on another device.
8. How can one access the app from another phone?
Say I left a phone within Bluetooth range of this thing, could I access the app from another phone elsewhere and see the reading?
Answer:
Yes, you can. Ensure the phone or tablet is in sync with your device to the cloud so one can access the data remotely. Apple products may face issues as the OS may stop the APP when it runs inruns shown in the background for long periods. One way to avoid this is to force the APP to operate in the foreground.
How often does the device sample the radon gas?
Does this device have an hourly breakdown?
Answer:
The radon gas sampling is done every two hours. So, it does not evaluate on an hourly breakdown. Howeverhowever, it does break down the numbers in two-hour increments.
Q.Does the unit stores the readings or does the app? If I uninstall the app will I lose the data?
I believe this answer is true. True I haven't included it included in the reading.
Answer: Data is stored in the unit. If you uninstall the app, you won't lose any data. The only way to erase data is to unpair the device from your Airthings account.