If you are an HVAC technician or have long been in the business, you know how it is. And, if you are a beginner, you'll gradually find your way. Both ways, what you have to understand is the need for having a complete tool kit that keeps you updated and prepared for a service call. Whether it's a maintenance job or just a provisional call, you require a standard apparatus – one that is reliable, durable as well as resourceful. It is only then that you can be a par with your customer's satisfaction. Having even the basic set of tools shows how committed you are to the craft.
HVAC is a demanding industry. So you can't really diagnose a problem with the system or expedite any repairs without having those safety and specialized tools. Moreover, possible encounters are endless. So, I bring a quick and go-to checklist to not miss out on anything while on the job.
Best HVAC Tools kit Checklist: A Complete List of the Must-Haves
Here's a quick look at the items you might want to consider adding to your HVAC tool bag. You can, in fact, check out on the site the best and most useful HVAC tool bags so you can carry along at least the basic as well as some of the advanced ones. Later in this post, I'll detail a bit more about the products so you can conveniently pick each of these and stay all prepared.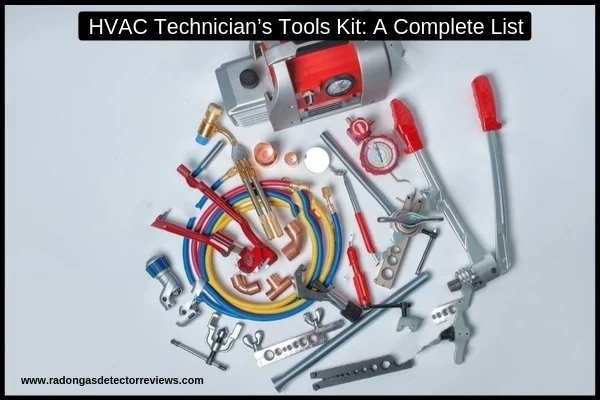 Best Safety HVAC Tools kit List
This section includes the should-have tools. You must not really give these a second thought since safety is above all. You'll precisely be able to work only when you are safe from any potential dangers. So, here's the list:
Work Gloves
Durable Footwear
Ear Plugs
Safety Goggles
Hard Hat
Best HVAC Hand Tools List
This section includes both basic as well as advanced hand tools for you to have in your HVAC tool kit. These can be used in n number of ways and will certainly ease your task on-site:
Flashlight
Pliers
Hammer
Tape Measure
Battery-Powered Drill
Wrenches
Electric Testers
Screwdrivers
Leveler
Thermometer
Hand Seamer
Metal Crimper
Wire Stripper
Best HVAC Specialized Tools Kit List
HVAC isn't just about a few hand tools or maintenance ones. It's a vast occupation that requires both training as well as advanced tools. So, depending upon the scope of your call, you may or may not require any special tools. However, these must be a part of your HVAC tool kit. Because essentially these are the tools that get your job done:
1. Caulking Gun
2. Manifold Gauge
3. Extension Cord
4. Reciprocating Saw
5. Nitrogen Regulator
6. Psychrometer
7. PVC Cutters
8. Leak Detector
9. CoreRemoval Tools
10. Staple Gun
11. Tubing Cutters
12. Scratch Awl
13. Multimeter
14. Tin Snips & Shears
Repair Tools
This list includes all the essential tools you might need while attending a repair call. So, get going:
Recovery Unit
Coil Fin Straightener
HVAC tool bag
Vacuum Pump
Micron Gauge
Refrigeration Gauges
Refrigerant Scale
Step ladder
Essential HVAC Tools Kit List
Here I'll elaborate on each of the tools mentioned above to help you understand why you, as an HVAC technician need these and what are their individual purposes.
Safety Tools
Well, safety must not be an afterthought but a priority when you are an HVAC technician. It isn't a regular 9 to 5 desk job with air conditioners on and seats all comfy. You guys are out in dangerous conditions and fieldwork has its own pros and cons. So, I am placing the safety tools right on top to always keep yourself protected while on the job.
Work Gloves
Pick the ones that are thick and durable
Must be well-fitted
These protect your hands against burns or cuts
Come with an extra protective shielding
Allow flexibility
Provide a better grip
So, always keep a spare pair
Several varieties cater to HVAC purposes
The dry/ wet grip feature is an advantage
Durable Footwear
Ensure buying the ones with superior quality
Rubber sole and steel toe boots are a good choice
Pick anti-skid and water-resistant materials
Greater traction ability would prevent falling
Work boots guarantee ease both indoors as well as outdoors
These also protect you from unforeseen accidents
Ear Plugs
Use ones particularly for HVAC professionals
It can get loud at work so these prevent damaging your ears
Great when using power tools
Pick industrial-grade ear muffs or plugs
Safety Goggles
Protects eyes from dust, spark, and metallic debris
Invest in high-quality glasses and not the cheap ones
The anti-fog feature allows better workability in humid conditions
The anti-static coating prevents PM (particulate matter) from sticking
Helps maintain your vision for details
Hard Hat
Hard hats are underrated but very essential
These protect your head from getting hurt
Ensures rock-solid safety
Works well in extreme temperatures
Not slouchy but sturdy designs go a long way
Saves your energy when working outdoors
Hand Tools
When going for a service call, make sure you have the necessary hand tools that will help you during the job. These are basic yet the ones that make life much easier. These tools can easily fit into the right HVAC tool bag so you don't have to worry about throwing them and maintaining the mess.
1. Flashlight
Comes in handy in darker places
An essential tool in your bag or tool belt
Keep within your arm's reach
Headlamps are even better if you want to free your hands
2. Pliers
These are for cutting heavy wires
Also grabs the wiring really well
Can reach narrow areas
Having different sizes is always handy
It's a routine tool for maintenance and repair
Needle nose, linesman, wire-stripping, and open-face varieties ensure uncomplicated cuts
3. Hammer
It's a classic tool
Is multipurpose in use
Every piece of equipment yet incredibly versatile and obvious to have
Must be lightweight but heavy-duty
Fiberglass construction makes it pretty durable
Having a pop color enables it to be highly visible
Get the one that's easy to grip and with straight claws
4. Tape Measure
It's a staple tool
Must be at least 25 feet long
Pair it up with a marker for doubling the accessibility
Useful in ductwork and for AC units, vents, furnaces, etc.
Look out for features such as retractability, self-locking, sturdiness, etc.
5. Drills
A chargeable/ cordless (battery-operated) drill is a great choice
Must have a quick charging ability
Must be powerful and portable
Don't forget to carry some batteries along
Corded drills are also a must-have when batteries wear out
Corded or cordless – both are convenient options
Carry along various bits – arbor, hex, and hole saw, etc.
6. Wrenches
Light in weight
Non-negotiable tool in your bag
Pick the one with quality material
Have a range of differently sized wrenches
Crescent & Pipe wrenches are especially essential
The tool deals with gas and plumbing lines
Essential for both repairs and installations – to tighten or loosen
7. Electric Testers
Multipurpose HVAC tool
Better for identifying live electrical power
Make sure to carry different varieties
There are both simple and advanced ones
8. Screwdrivers
These are useful in screwing and/ or unscrewing
Feasible for all screw sizes
Essential for vents, units as well as thermostats
Must have a durable and reliable construction
Blades must ensure precision and better turning power
Include flatheads and hex styles etc. in your tool bag
The tool must be anti-slip, with insulated handles, and heavy-duty
9. Leveler
Ensures leveling
Helps establish a horizontal plane
Useful for installing AC units, furnaces, and thermostats
10. Thermometer
Dependable, handy, and also a specialty tool
Make sure to stock up on these
The tool must have a rubber boot
It's different from the ones used for fever
LED indicators are an add on
Ensures customer and worker satisfaction
Digital (infrared) meters are always convenient
Measuring temperature on-site is easy since HVAC revolves around hot and cold environments
Records readings and detects overheating in compressors, motors or breakers
11. Hand Seamer
Does the work of a hammer plus plier
K.A. Tongs or Fairmont
It can bend, flatten and shape the metal sheets
Better for ductwork
Easy-to-use tool
12. Crimper
Has multiple uses
A handy and versatile tool
Is a must-have in an HVAC technician's tool kit
Use it with discretion
Opt for the one with an ergonomic design and a comfortable grip
To crimp or strip metal, wires, or crimp connectors
13. Strippers
Has an easy grip
Sturdy tools on your tool kit
Absolutely safe to use
To strip and reconnect wires
Has better peeling ability than a knife (while on the job)
Wears off considerably early since the blades get blunt.
Specialized HVAC Tools
There's a huge selection of specialty tools required for HVAC purposes. You can find the assortment online or at any offline store that retails in HVAC gear. However, the below-listed items are just a few of those which are commonly used and most important for your job. Such specific items might be a bit on the expensive side but you definitely need a different set of tools for non-general purposes. Moreover, preparedness comes first. It is only then that an HVAC technician or business can take up bigger tasks. So, let's get right into the list of essential HVAC tool kits:
1. Caulking Gun
It's a duct sealant so always keep it handy
Purchase the one that's dripless
It fills cracks, joints, and holes and also seals the ducts
Look out for features such as seal puncturing, ladder hook, spout cutter, and an easy load front cap
To avoid a buildup, clean it regularly
2. Manifold Gauge
It is one of the most used and vital tools
Used in several HVAC procedures
From recovery to vacuum and testing – the functions vary
Helps detect leaks during refrigerant removal and while charging the unit
Digital gauges are newer in the scene so get the one with a legitimate LED screen
Analog ones are useful and have been here for decades
3. Extension Cord
This is oftentimes an overlooked HVAC tool
You'll always remain tension free regarding gears that aren't battery operated
So carry a heavy-duty extension device that comes with a considerable length
It can even stand the ordinary household wiring or power load
Industrial-grade equipment is more durable
You remain stress-free and have appropriate outlets
Your work is not hindered
Keep spare ones in your workshop
It can easily extend electricity into the attic, crawlspace, shed, or just anywhere
4. Reciprocating Saw
It can literally see anything
It works on a push-and-pull motion mechanism
Can be used in specialty tasks
You can swear by this amazing product
Must have durable and quality reciprocating blades not dull or blunt ones
You can cut through wood, pipes, sheet metal, old condensers, etc.
In fact, you will not have to vary between the powers while changing the materials which is a great feature
5. Nitrogen Regulator
K.A. Nitrogen purging
It's an effective method for air-cleansing
Ensures no contaminants are left behind in the unit
Prevents a dangerous explosion
Nitrogen regulator is a professional tool
Acts as a pressure control valve when testing the unit
Also protects the weld seam until it cannot oxidize any further
It replaces an undesirable atmosphere with a purging (harmless) gas like nitrogen
6. Psychrometer
Incredibly helpful
Not an everyday use tool and you'd rarely need it, however, it totally depends on the type of job undertaken
It determines the humidity level of water vapours and mixtures in the air
Measures wet and dry bulb temperatures
Is available in both mobile as well as stationery versions
It points toward a proper or improperly working unit
7. PVC Cutters
Ideal during PVC projects where you need something more than a handsaw
It easily cuts precise lines
Is relatively inexpensive
A faster and more convenient method
Often used by plumbers or electricians
There are several styles but watch out for something with a sharp blade
8. Leak Detector
It's presently the most popular leak-detection technique
You can opt for expensive high-tech tools or simply go for an affordable sensor
This help find AC/ refrigerant leaks
Work accurately, quick and easily
Can sense and locate potential leakages
Make even the hardest struggle go trouble-free
9. Removal Tools
These are designed specifically for the replacement or removal of valve cores
There's no sacrifice on the refrigerant charge
These are affordable and significant tools for units under pressure
Pick the ones that are vacuum-rated as well as well-built
10. Staple Gun
Having a staple gun is your best bet
It's a lightweight and everyday-use device
Has a rapid jam-clearing mechanism
Staples insulation or a metal sheet right into place
Pick the one that's heavy-duty
11.Tubing Cutters
These are different from PVC cutters
More useful throughout the installation or repair process
Help you work more efficiently on a variety of materials
You can perfectly slice through the things but it's particularly useful in restricted spaces
To be precise, start out by cutting pipes that are thicker than 1/8th" to 1-1/8th"
These are affordable tools and totally worth your investment
12. Scratch Awl
This one's another useful tool in your HVAC tool kit
You can purchase the scratch awl in kits or individually
Awl scores the sheet of wood to help you cut it straight
Punching holes with it is also easier
In other words, it's a point-making tool that etches a mark for you to track with your chisel or handsaw
13. Multimeter
This is your go-to tool so you do not get electrocuted
It determines the presence of voltage (volts), electrical current (amps) as well as resistance (ohms)
Works for the detection of wires, switches, or outlets
Is one of the most essential specialty tools
It is crucial for the safety of both technician as well as the homeowner
Basically, it's a diagnostic tool that you must always keep handy
Look out for features such as an auto-ranging meter, LED beep, and non-contact voltage indication
Digital ones are quite popular these days
14. Tin Snip & Shear
It is essential for the manipulation of sheet metal
You must have these snips: Lefts, rights (offsets), and straight (bulldogs) aviators
These allow a variable cut in terms of positioning as well as precision
Make sure you buy the steel one with insulated handles for safety purposes
And, it also must be durable to go a long way
Repair Tools
If you are someone who specializes in HVAC repairs, the assortment gets even wider. You cannot restrict yourself to just a few handy items. It is important for you to dispense a professional tool bag and think of the other side.
1. Recovery Unit
It's a mandatory process so ensure you have all the tech
A reliable recovery unit is a must
It pulls vapor and creates high-pressure discharge gas
Essentially removes the refrigerant from cooling machines
Done right before the vacuum process
2. Coil Fin Straightener
Straightens the twisted fins
Useful and comes in cheap
Decreases electricity use
Increases efficiency
K.A. Fin Comb or Coil Fin Tool
Prevents the unit from a sudden breakdown
3. Megger
Measures the insulation resistance of an electrical unit
It works for smaller values
Used for quality control
Prevents any damage that can happen over time
Extreme climates, dust, and other conditions can reduce the insulation resistance
Pick a product that is portable
Mechanical as well as battery operations are both available
4. Vacuum Pump
Moisture removal is necessary to make sure there's proper functioning
A vacuum pump sucks out any air from the refrigerant system
It clears the air conditioning lines and inhibits failure
Is helpful during repairs and for testing leaks
Prevents the wastage of time, effort, materials, and money
Saves you from expensive repairs
Retains the client's trust
Keep a variety of common types of pumps so when you need one it comes in handy
5. Micron Gauge
Determines the exact level of vacuum
Can measure degassing as well as dehydration in your unit
Prolongs the shelf life of your unit
Comes in use prior refrigerant charging
Pick the one that's durable, easy to use, and also easy to clean
Do not settle with cheaper products – these might provide inaccurate readings
6. Refrigeration Gauge
Having a set of reliable gauges is important for an HVAC technician
The refrigerant gauge determines leakage in the cooling unit
Identifies the refrigerant charge
Can read as well as hold pressure
7. Refrigerant Scale
A must-have HVAC tool
Maintains the temperature of a unit
Measures the weight of refrigerant while being added or removed from the compressor
Ensures just the right amount
Increases efficiency
It identifies if the system is suffering from a leakage
You also have the opportunity to fix problems
If the refrigerant charge is less, the system won't be able to maintain the temperature. If the refrigerant charge is more, the system would produce a high-pressure straining the compressor's life. So, to avoid any costly maintenance issues refrigerant scale helps in putting as much as needed
8. Step ladder
Simple and a must-have tool in your HVAC tool kit
Especially helpful in fieldwork
You may not really think of this as an essential one, but it really is
When packing your HVAC stuff, don't overlook the step ladder
Get the one with at least 4 feet height
Foldable step ladders are always portable and convenient
Pick the one that's lightweight yet sturdy
Bonus (Business) Tool
HVAC Mobile Software
You may or may not assume it to be the one in your HVAC tool kit, however, it's no less! It's a comprehensive software that is much needed considering today's advancements. The right software not only allows you to mark a technician's work quality and appropriate estimations but also ensures effective communication as well as enlisting the tools that are to be carried along. There is so much more to these kinds of mobile applications.
Some of the other features may include training videos, agreements, sharing the schedule, contact information, service accounts, payments processed (or invoicing), and record of the equipment, etc. It gets you more focused to provide top-of-the-line facilities. Plus your customer remains up-to-date.
Final Words for HVAC….
Coming to the end, this checklist is to help you curate your very own HVAC tool kit no matter you are a technician or a businessperson. Having the needed gear at your disposal is the best possible way of achieving success. It helps you provide quality assurance and also takes up a variety of tasks. Of course, having an obligatory specialization is a must to go about advanced tools. However, not having even the basic ones can stop you from tackling any calls. From hammers to duct tools and more – the list above showcases it all. Let me know in the comments below if you have any queries or need more recommendations regarding the upkeep of the HVAC tool kit. I'd love to hear from you!