Although the growth of jobs in the HVAC industry will have an estimated growth of around 15% over the next decade, when you get your EPA HVAC Certification License you will have even more opportunities to succeed in the industry.
There are always a lot of changes happening in the HVAC industry. Technology is changing and systems are now more powerful and complex. When you have HVAC certifications you become a lot more appealing to employers and are more likely to land a good job than those engineers that do not have the certifications.
The problem is that if you are already working it can be really tough to find the time to attend a training school or college to study for your certification. It can also be very expensive to do this. But there is another way.
Technological advances have provided the opportunity for online learning. This is a lot less expensive than attending a traditional classroom environment and you can study at any time and from the comfort of your own home. All you need is a computer and a connection to the Internet.
To help you make the decision about studying for your EPA HVAC Certification License online we want to ensure that you have a complete understanding of how it works and what is possible and what is not. So please read this comprehensive guide before you make the decision to go for the online training option.
How to Get Your EPA HVAC Certification License Online: Complete Guide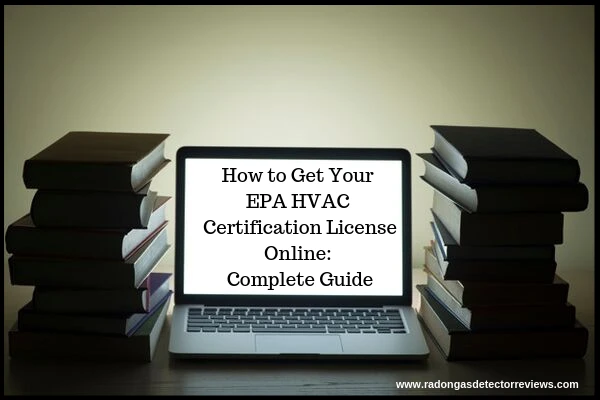 The Lowdown on HVAC Certifications
There are no laws at the federal level that dictate which HVAC certifications an engineer needs to hold. But some of states require that engineers and technicians hold specific licenses and certifications. The Environmental Protection Agency (EPA) has one certification which is mandatory.
If you are going to release CFCs into the air as an HVAC technician then you must hold certification and pass the relevant test. This will enable you to hold a 608 card under Section 608 Refrigeration Recycling Rule.
The HVAC Excellence Certification and NATE are endorsed nationally as these demonstrate knowledge and training in the industry. Each state will have different certification requirements so you need to find out what the rules in your state are.
When you are checking out the possibility of online training you need to bear in mind that some certifications will require some face-to-face training which you will need to complete at an authorized learning establishment.
For an HVAC technician to have the basic standard of education they will need a GED, an accredited program HVAC certificate, a state HVAC license (if this applies), and other certificates such as the EPA certificate for specific areas of work in the industry.
Online HVAC Certifications – What you need to know
There are different types of online courses for HVAC technicians. If you want a degree or diploma then there are online courses available for this. Usually, there is a final examination with these courses where successful candidates will receive certifications.
Then there are courses online where you can obtain HVAC certifications endorsed by states obtainable through the combination of experience and taking exams.
If you want to take your EPA Section 608 certification test then you can do this online. There are types 1, 2, and 3 EPA 608 certifications and you can set the type 1 test as an open-book exam online. The type 2 and 3 certifications are proctored tests.
With the EPA type 1 certification, you will be tested on your knowledge of working with smaller appliances that carry 5 pounds or less of hazardous refrigerant. Once you have obtained the EPA type 1 certification there is no expiry date.
You have the choice of taking the type 1 exam in person or online. When you take the test online you need to obtain a slightly higher grade than if you take the test in person. There is a core section in the test as well as the exam for type 1. If you want to take the type 2 or 3 tests then you have to take the core section test again.
If you believe that you are ready to take the EPA type 1 examination then you can go over to EPATest.com and register to sit the test.  Although the type 2 and type 3 EPA certification tests require a proctored environment, you can still take them online under webcam proctoring through the Zack Academy.
You Have More Flexibility With HVAC Online Courses and Tests
If you wanted to sit a test or join a course for HVAC certification at a traditional learning establishment then you would need to adhere to their mandated schedules. With online courses and tests, you do not have this restraint imposed upon you.
There is no traveling to a brick-and-mortar establishment when you decide to study online or take a test online. You can also choose to study when it is convenient for you. If you are working then why not catch up with your studies during lunch or when you return home in the evening?
If you have young children then it can be really difficult for you to disappear off to a class when you have finished working. With online learning, you can study in the middle of the night if you want to.
Some people may not like the idea of taking their HVAC certifications online because they feel that not having a teacher that they can see all of the time is a disadvantage. Usually, all of the resources and information that you need to succeed with your HVAC certification are available online.
You will find that most teachers of online courses have specific hours when you can contact them directly. The contact can be through email, online messenger or even using the phone. Most people that take online HVAC certifications have minimal contact with teachers because they have so many resources online that they can turn to for assistance.
These days there are more and more HVAC technicians going online for their certification training and the taking of tests such as the EPA type 1. This means that you will never be on your own and you can turn to a large community when you need to.
Usually, HVAC Online Certifications and Tests are Less Expensive
With a traditional brick-and-mortar learning establishment, there are a number of costs that they have to cover. Employees that supervise tests and assess grades as well as administration staff as well as building maintenance costs need paying. Usually, you end up paying these costs in the form of fees.
When you take an online class or test then the costs are considerably lower for the school. This certainly applies to HVAC certifications. In some circumstances, you can make applications for financial aid and scholarships for online learning.
Not only are the costs of doing things online usually cheaper but you can continue to work. This usually means that you do not have to take out a loan for your HVAC certification or at least a smaller one than with a traditional brick-and-mortar situation.
It is also possible to save time with online learning. You can complete some HVAC certifications in a few months online compared to a lot longer time period if you chose to attend a traditional classroom setup.
What HVAC Certifications can you obtain Online?
You can obtain four EPA certifications online which are:
Type 1 – Servicing of small appliances
Type 2 – Servicing of high-pressure systems
Type 3 – Servicing of low-pressure systems
The Universal EPA Certification
You can also obtain the NATE (National American Technician Excellence) certification online.
It is important for you to understand that with some certifications or licenses, you will have to take an apprenticeship program. This is because having practical experience is an essential element of learning the HVAC trade.
In some cases to gain the certification, you will need to show a number of notarized apprenticeship hours. Then there are some requirements for proctored tests such as for the type 2 and 3 EPA certifications (although there is a way around this by using webcams for the proctoring).
The Different Types of EPA HVAC Certification
You can study online for the different types of EPA HVAC certification. Here is what you will need to study for each type:
EPA Type 1 Certification
This is for smaller appliances such as refrigeration units, small window air conditioning units, dehumidifiers, and freezers. You will need to answer questions on the correct procedures for system evacuation including the use of the right equipment.
There will also be questions about the gas recovery methods you would use for HVAC systems that have a working compressor and those that don't. You will need to be well-versed in all safety requirements for the handling of refrigerants.
To achieve the certification you have to achieve a passing grade on the test which you can take online.
EPA Type 2 Certification
This is where a technician will work on high-pressure systems, You can study for this online and you will learn the following:
High-pressure system leak detection
Before system recharging or repair you must test for leaks
The requirements for repairing leaks for systems that have over 50 pounds of refrigerant
Best practices and recovery techniques
Requirements for recovery for disposal, and all levels of repairs
Understand high-pressure systems for refrigeration and gases
Safety factors including using equipment safely
There is online training available for this. The type 2 EPA test requires proctoring but there is the chance to take this online with the use of webcams with some online schools.
EPA Type 3 Certification
You will need to learn everything that is included in the type 2 certification but for low-pressure systems rather than high-pressure systems. Again you can find this training available through online study. The type 3 EPA test requires proctoring but there is the chance to take this online with the use of webcams with some online schools.
Universal EPA Certification
To achieve the Universal EPA Certification you must have the knowledge related to type 1, 2, and 3 certifications. When you have the Universal EPA Certification you can work on all systems. This is a great way to open doors for all kinds of work opportunities.
There are online training courses that cover all of the subject matter required for Universal EPA Certification.
NATE Certification
One of the most useful certifications that you can gain online to go alongside your EPA certifications is NATE. The training for this is practical in nature and it is a great way for you to validate your knowledge as an HVAC technician.
With NATE certification you will demonstrate to potential employers that you have a good understanding of a wide range of subjects in the HVAC industry. This will help to bolster your credibility significantly.
There are 22 NATE certifications that cover different skill areas. The only drawback with NATE is that the certifications only last for 5 years. You can go online and renew and re-certify easily these days and you can gain continuing credit for your education through work experience.
Going Further with your HVAC Education Online
There are a number of higher-level HVAC online training courses that can lead to degrees and diplomas if this is what you are looking for. You can find short online training programs for HVAC that last for 9 to 10 months and provide you with a diploma at the end.
There is also the opportunity for you to take a two-year online associate degree in HVAC and you can study for a Bachelor's degree if this is a desire. Usually, these are four-year programs and most people that take these online courses are looking for advancement to supervisory or management positions in the HVAC industry.
Is getting your EPA HVAC Certification License Online right for you?
In this guide, we have discussed the many benefits of using online training to not only obtain your EPA HVAC certification and licenses but other forms of certification as well. Most people are comfortable with learning online and are very happy to reap the benefits of flexibility, cost savings, and convenience that eLearning offers.
However, if you are someone that cannot sit in front of a computer screen regularly to learn and prefer the traditional teacher and classroom environment then that is available to you as well. It is likely to cost more and take more time though. The most important thing is to obtain your EPA certifications and the other certifications that you need.