Here we bring to you Corentium's user – friendly and best home radon detector – CORENTIUM HOME 223 Radon Gas detector Review, to develop, maintain and sustain a happy, healthy and safe environment for you, your family and friends.
WHAT IS CORENTIUM HOME 223 (AIRTHINGS) RADON DETECTOR?
Corentium Home 223 Radon Detector device is a digital measuring instrument that measures the levels of RADON GAS in your homes. It's a battery-operated device that comes in a small box with 3 AAA batteries and the device itself.
This high-quality European design device allows you to take the readings of radon levels in your home. These readings may be displayed on long term and short term concentration levels. The device provides an overview of the concentrations of radon gas in your environment.
Corentium Home 223 Radon Detector is tested in the most renowned laboratories of Japan and designed in Europe with advanced technology. It's really a user-friendly model and ready to go within seconds. This home radon detector is not affected by any electromagnetic interruptions, humidity, or dust. The advanced technology that this home test monitor employs is generally used in commercial detectors. 
PRODUCT SPECIFICATION:

| BRAND | Airthings |
| --- | --- |
| TYPE | Radon gas detector monitor |
| MODEL NUMBER | Corentium home 223 |
| VERSION | USA |
| MEASUREMENT | pCi/L |
| COLOR | White |
| POWER | Battery operated power source |
| MANUAL/ AUTOMATIC | Automatic device |
| MADE IN | Europe |
| WARRANTY | 1 year warranty against system failure |
HOW IT WORKS?
Corentium Home 223 Radon Detector is a simple and powerful solution for testing radon levels. It provides accurate levels and adapts easily to the environment to display exact readings.
This USA model's measuring unit is pCi/L and monitoring goes on for 2 years effectively with the batteries provided.
When the Corentium Home 223 Radon Detector switches on it performs a self-calibration and self-test within a few minutes. This self-calibration keeps happening every 24 hours. During the self-test time, all the other buttons are deactivated. The batteries provided with the device will keep it working for the next two years.
SPECIFICATIONS OF CORENTIUM HOME 223 Radon Gas detector
Large LCD display
Battery-powered device
Unaffected by humidity, dust, or any kind of electromagnetic interferences
Strictly for home usage
obtains the best indoor accuracy eliminating external factors
Simplistic
Accurate device
Sleek and compact
Has a decent build quality
Uses advanced technology
If you have high radon levels the Corentium Home 223 Radon Detector will give a reading only within a few hours
If you have a low radon reading it will take 24 hours to give an exact and safe reading
BENEFITS OF USING CORENTIUM HOME 223 RADON DETECTOR
This radon detector is for home testing purposes only.
It is designed to be used in accordance with worldwide standards  (USA – pCi/L and International – Bq/m³).
It adapts automatically to the environment
The longer you measure, the maximum would be the accuracy
The measuring unit is pCi/L
It's a durable product
Has affordable pricing
Easy to use
Allows effortless room for room monitoring
An essential device for testing radon gas levels in a more sophisticated manner
Eliminates all external factors which could lead to any inaccuracies
WHAT'S NOT GOOD
No extra memory storage
Sensors only Radon unlike other models which can also sense Temp, humidity, pressure, etc
No detailed hourly readings
ABOUT CORENTIUM
Exactly what you need to stay on top of your radon levels – no more, no less.
The next generation of radon gas level testing creating advanced solutions
Established in 2008, Corentium is a Norway – based technology company that develops and manufactures products to easily monitor and identify radon levels in the indoor air. Corentium's mission is to ensure that people around the world take control of their air quality through affordable, simple, and accurate solutions.
Summary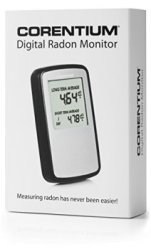 Author Rating
Brand Name
Product Name
Corentium Home 223 Radon Gas Detector
Price
Product Availability