Bringing to you the RadonAway 50017 Easy Read Manometer (Blue) Review, installed in nearly half a million homes and letting every homeowner get a glance at whether their radon system is in operating condition or not. This little meter helps you to monitor the consistency of your radon mitigation suction.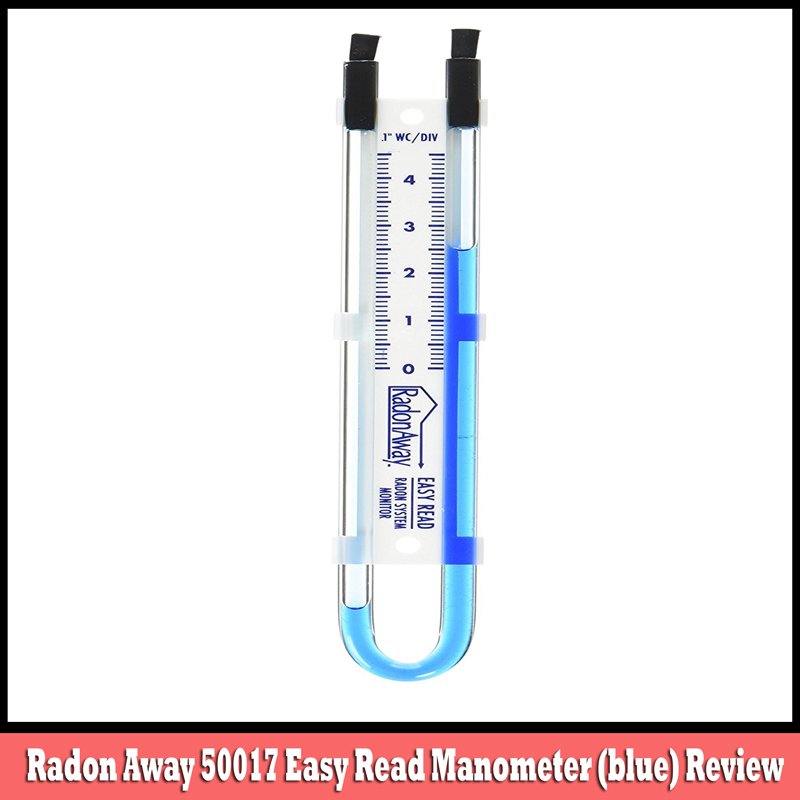 WHAT IS RADON AWAY 50017 EASY READ MANOMETER (BLUE)?
To clear the confusion, let me first tell you that this meter isn't a measurement device. It's a simple monitoring meter. It doesn't measure the radon levels in your home but simply reads/ monitors the negative pressure of your radon fan unit and does this constantly.
The Radon Away 50017 Easy Read Manometer is an uncomplicated gauge that measures the suction level being produced by your radon fan. It successfully ensures that your radon mitigation system is properly working. It's a highly recommended meter especially for those areas where the unit fans can be barely heard. The package contains an intensive information brochure for the homeowners to easily install the whole thing at one go!
The oily blue fluid is created in such a way that it can work without evaporating for years together. The meter can also be used outdoors but of course with the required protection.
How Does Radon Away 50017 Easy-Read Manometer work?
If your radon mitigation unit starts to fail, this manometer will let you know! The working is simple – the 50017 Easy-Read Manometer has a flexible tube that runs from one side of the "U" straight into the vent pipe you set for a radon mitigation system. So just connect it below the radon fan to monitor the vacuum (which draws the radon gas from under the basement into the outside air) created.
The readings are even simpler – If your radon mitigation system is absolutely working well then the blue liquid should be higher on the side that is attached to the vent pipe. If both sides are on the same level then your system is not venting.
SPECIFICATIONS OF RADON AWAY 50017 EASY READ MANOMETER
| Product | RadonAway 50017 Easy Read Manometer, Blue |
| --- | --- |
| Product Dimensions | 5 x 4.6 x 0.5 inches |
| Product Weight | 2.4 ounces |
| Manufacturer | RadonAway |
| Product model number | 50017 |
| ASIN | B00HYZ28I6 |
OTHER SPECIFICATIONS OF RADON AWAY 50017 EASY READ MANOMETER
It visually confirms you that your mitigation fan is sucking out the air
Comes with an easy read u-tube manometer
Needs to be only mounted vertically
Contains a non-toxic blue fluid
Reads between 0 to 4.5″ WC
Has an adjustable zero
Comes with a tube and two self-tap screws
The blue fluid/ liquid lowers on the one side and raises on the other to display the difference
Readings can even be seen from across a room
The meter comes with labels and stickers for tagging switches, sockets or pipes, etc which again is appreciable
BENEFITS OF USING RADONAWAY 50017 EASY READ MANOMETER
Helps you monitor if your radon unit is doing the job or not
Contains easy installation instructions
Gives instant results
Easily readable scale
Brand assurance
Does what it claims and works as expected
Can easily work for eight to ten years
Amounts are clearly displayed through the blue fluid
Superior quality and durability
Affordable
Popular brand name
Almost works like a thermometer for your radon fan
Saves you from the contractor installed highly expensive meters
Works similar to the high-tech electronic manometers but at a much more reasonable price
WHAT'S NOT GOOD?
Can be found to be misleading if not read about correctly and carefully
ABOUT RADON AWAY
It was around 25 years back that Radon Away introduced its very first radon-specific fan. Since then, all their fans have been reliable, well-accepted, and effective. Radon Away values its commitment and hence provides only high-quality fans, easy read manometers, blowers, test kits, and other such supplies & accessories backed up by rapid technical support.
Frequently asked questions for Radon Away 50017 Easy Read Manometer: FAQ
Q1.
Q2.
Q3.
Q4.