Staying with the radon is simply next to impossible for any normal human being. You simply need to be active in removing radon from your house but have you tried anything yet? One of the systems that are proving to be effective recently in removing radon from your house is the Radon mitigation system.
DIY Radon Mitigation  Systems Guide: Easy Steps for EveryOne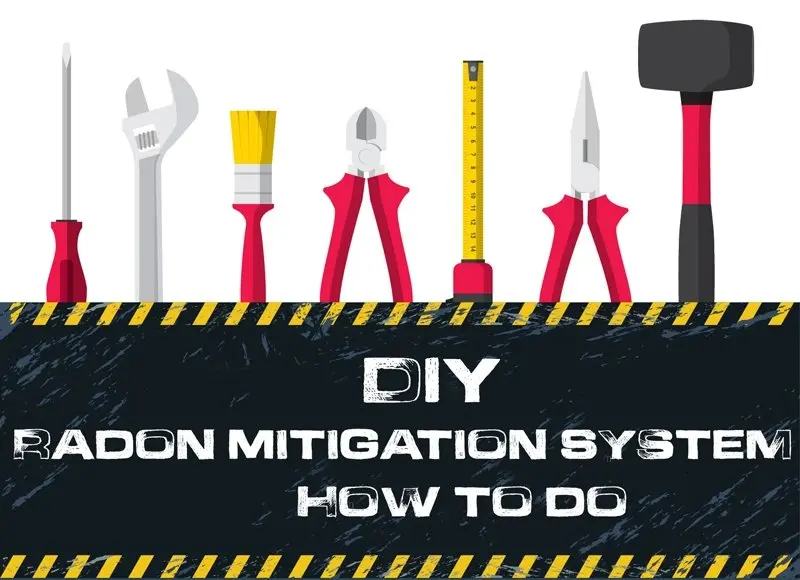 Why Do It Yourself Radon Mitigation?
In recent years, Radon mitigation systems have proved to be very successful in removing radon from houses. Installing this system in the house could be tricky, so never consider it as a coup. Those who want to avoid the expense and are confident enough to do the installation by themselves can take the help of the DIY step-to-step Radon Mitigation system installation guide provided here. Though we advise going through the step-to-step guide and in case found any problem with it can immediately call the experts.
Basic Overview of DIY Radon Mitigation
As said earlier, the radon mitigation system is not that simple to be handled easily by anyone who is not an expert. Though the basic goal is to remove the radon from the home permanently, you need to follow the steps by step instructions. The ground beneath your house is the place where you can find Radon. So the only way to get the Radon out from your house can be through drilling holes in the foundation of the home and thus suck the Radon from that ground level and then expel the gas from the house through the roof.  You need to have a set of PVC pipelines that will suck the air from below the house, going the pipelines that go through the inside of the house, it reaches and gets out from the roof.  Make sure that the holes in the roof and the basement are properly sealed so as to make sure that the radon does not get around the foundation's pipe and thus to make sure that moisture does not get down from the roof. Secondly, you need to have a fan installed in the attic that sucks the air from beneath the house, pushes it in an upward direction, and finally lets it disperse into the air. To avoid moisture formation you need to make sure that there should be an insulator attached that does not let the foundation's warm air hit the roof's cold air.  Thirdly another crucial element is the manometer which tells about the condition and the working of the fan. It creates a difference in the pipe's pressure and thus helps in pulling up the air from the ground. The whole system works on the PVC pipe.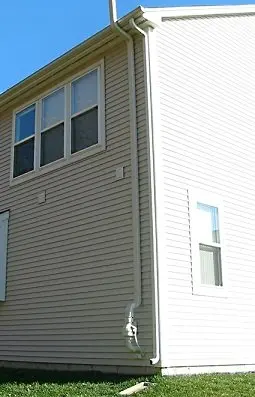 Steps for DIY Radon Mitigation
Get Initial Radon Gas Reading
In the very first attempt, you need to know about the areas in your house that have the highest Radon. Generally, a radon detector is used to know where in your house the radon levels are high. A long-term detector is highly recommended but you can buy it according to your pocket. The long-term detectors are expensive compared to the short-term detectors which are for single use.
Here are the Best Radon Detectors We have listed to Get Initial Randon Reading:-
Sr. No.
Product Image
Product Name
Rating & Reviews

1.

Airthings Wave Radon Gas Detector

[easyazon_cta align="none" identifier="B01MSEQYY9" key="small-light" locale="US" tag="radongasdetector-20"]

(4.9 / 5)
Read Full Review

2.

Airthings Corentium Home 223 Radon Gas Detector

[easyazon_cta align="none" identifier="B00H2VOSP8" key="small-light" locale="US" tag="radongasdetector-20"]

(4.9 / 5)
Read Full Review

3.



Safety Siren Pro Series 3 Radon Gas Detector

[easyazon_cta align="none" identifier="B000CEAY64" key="small-light" locale="US"
tag="radongasdetector-20"]

(4.5 / 5)
Read Full Review
Through this step, we try to keep a watch on the Radon level before and after the installation. They are also largely used during the installation.
Check the Age of the house
You need to know the age of your house for knowing the cement slab foundation present beneath the house. An ideal fill helps in sucking the air in a more easy way whereas a non-ideal one is denser comparatively that needs a lot of effort for better installation of the radon mitigation system.
Before starting with your Radon mitigation, you need to know about the structure of the house.  First, if there is any addition made to the initial construction then there can be a need to mitigate radon in a number of areas of the house. Secondly, you need to know the drainage system as to whether it consists of a drain tile or a French drain. Thirdly you need to know the soil composition a lastly to know the current foundation of the house to see where the pipes can go through in a more sealed way.
For a better pipeline system, you need to have a 3" – 4" PVC pipe and it comes in pieces that can be fitted with the help of PVC cement and other joining tools. The piping system should be a good bracket and sealed from the basement to the roof. You may need a hacksaw or sandpaper for the purpose of sectioning the piping.
Placing the fan in Right Place
The fan must be placed outside the living area of the house mainly in the attic. The site of the fan should be well sealed so as to avoid any leakage of the Radon while making the Radon gas come out of the house from the bottom through the roof.
Here we have listed Best Radon Fans:-
Sr No.
Product Image
Model
Recommendations
Ratings

1.

RADONAWAY (23030 – 1) RP145
RADON MITIGATION FAN (4")


[easyazon_cta align="none" identifier="B00294RBFM" key="small-light" locale="US" tag="radongasdetector-20"]


No. 1 Recommendation

Energy Efficient & Ultra quiet Operation.

( Read Full Review )



(5 / 5)

2.

RADONAWAY (23005–1) GP501
RADON MITIGATION FAN (3")


[easyazon_cta align="none" identifier="B0028PICB4" key="small-light" locale="US" tag="radongasdetector-20"]


No. 2 Recommendation

Versatile & Broad Performance Range.

(Read Full Review)



(4.5 / 5)

3.

FANTECH FR 100
INLINE CENTRIFUGAL DUCT FAN
MOLDED HOUSING, 122 CFM, 4"

[easyazon_cta align="none" identifier="B00070KI2S" key="small-light" locale="US" tag="radongasdetector-20"]


No. 3 Recommendation

Duct Fan for Boosting Airflow in Attic & Crawl Space.

(Read Full Review)



(4 / 5)

4.

FANTECH HP 2190
RADON FAN
(4.5" DUCT & 163 CFM)

[easyazon_cta align="none" identifier="B000V4O3QW" key="small-light" locale="US" tag="radongasdetector-20"]



No. 4 Recommendation

Performance Suitable for Smaller Housing.

( Read Full Review )



(4 / 5)

5.

SYSTEMAIR HP 190
RADON FAN
(4/5"Duct, 157 CFM)

[easyazon_cta align="none" identifier="B000WA5076" key="small-light" locale="US" tag="radongasdetector-20"]



No. 5 Recommendation.

Specially Designed with Higher Pressure Capabilities

(Read Full Review )



(3.5 / 5)
In the first attempt, you need to find a place in the foundation for drilling. The location should be near the wall so that you can bracket well. When you are ready to drill, you need to measure the hole a little larger than that of the PVC diameter.
Your pipe should run from the basement to the roof such that it should be sealed a bracketed properly. The fan should be attached to the attic. Also, you need to check the temperature otherwise you can attach an insulator to it.
The hole in the roof and the foundation should be sealed well. The space between the foundation hole and the PVC pipe should be filled with the backer rod before using the hydraulic cement to the seam.
In the end, you need to test whether the installed system is working well or not. In case you face any problem you can seek the help of an expert. You can do that easily with the help of burning a piece of paper and then checking whether the fan and the system work well or not.
---
  Product List for DIY Radon Mitigation
To begin with your DIY radon mitigation system installation, you must have a few essential products quite handy. These will better assist you through the process and make your job easier. So, here are the things you will need:
(I) 3-4" PVC Pipe
PVC pipes are a versatile, resistant, economical, and lightweight thermoplastic polymer well known for their use in plumbing applications. In radon mitigation systems, radon fans pull the air from the soil to vent it outdoors through a pipe. These are PVC pipes that run either inside or outside and release the contaminated air away from the property or the windows. And, considering that most of the residential systems move around 20 to 80 CFM, a 3-inch pipe is highly suitable. However, a 4-inch tube, on the other hand, can work non-intrusive due to lower air velocities. So, depending on the intake or the outtake hole of your fan, the pipe's size may be chosen.
(II)Elbow Joints
Elbows are industrial-grade fittings that help change the direction of piping. It enables you to redirect the regularly threaded pipes without having to spend on a new pipe blender. There are variations in the types of connections available, including weldable, flanged, socketed, threaded, etc. So, choose the one as per your needs. 
(III)Piping Insulator
It is a fact that moisture can lead to different types of corrosion. So, it is usually said to be necessary to prevent the formation of condensation on pipework. Thus, insulating the PVC pipes that are placed in the garage, attic, and outside dramatically reduces the risk of outside or inside pipe condensation.
(IV)Piping brackets.
These are clamps that comprise commercially manufactured heads along with lengths of standard threaded pipe. These are chosen depending on the size of your system's PVC pipes and be employed for your particular type of work. These are sort of supporting accessories for your piping structure.
(V)PVC Cement
This is a specially formulated premium quality clear solvent that works to bond PVC pipe as well as the fittings. It is a medium-strength adhesive that offers fast setting, and excellent adhesion along with waterproof binding. However, using too much PVC cement must be avoided as it melts the fittings or pipes to such a level that the joints start to weaken and dwindles the integrity of the waterproofing capabilities. 
(VI)Radon Mitigation Fan
The purpose of a radon mitigation fan is to remove and prevent the accumulation of radon levels from your property. It is generally carried out through a network of rigid pipes to pull the gas from beneath your property and appropriately vent it outside and away. In simple words, a radon fan controls radon in your home or workspace and prevents the same from accumulating to dangerously high levels.
(VII)Manometer
Since radon mitigation systems do not run forever, you need something that will keep a check on the system's working. So for this, manometers come to your rescue. The first option is to use a liquid-filled manometer mounted on the PVC pipe. And the second alternative is to use an electronic monitor that will measure radon levels in the air. Even if your mitigation system collapses, you will have something that would still be working efficiently to alert you of the radon levels.
(VIII)Hydraulic Cement
This is used to prevent leaks in concrete and masonry constructions. The cement sets pretty quickly and hardens after it has been mixed with water. Once mixed, it remains workable for only up to 15 minutes or so. It is useful for structures or parts that can be affected or be submerged in water in the radon system.
(IX)Backer Rod
A backer rod is a tubular type of rubber foam that is useful in filling the gaps or cracks present between the building materials. Its purpose is to hold the semi-fluid caulk right in place, so it bonds only with the building material, thus avoiding a triple bond.
(X)Hacksaw
This tool is often used by plumbers or electricians when they need to cut a metal pipe or sheet along with wood as well as plastic. This kind of saw comes at a reasonable price, and its blades are readily available. It is convenient when you are installing a DIY radon mitigation system and need to see any of the fixtures according to the area they need to fit in. 
(XI) Sandpaper
With sandpaper, you can feather any rough edges, clean pipe interiors, or make a surface a bit rough for better gluing. To purchase the one suitable for your purpose, the grit of the paper will suggest the size of the abrasive particles. So a smaller number means that the paper is used for rough sanding, and a bigger number is intended to finish sanding.  
(XII)Jackhammer
This is a sturdy and heavy-duty drill that is designed to increase the blow and speed of your work. A jackhammer is primarily used for demolishing concrete, and it functions on hydraulic power. The tool needs to be operated well under supervision as it requires proper control – if that is compromised, so is your safety. 
(XIII)Roto Driller
This drill is used to dig up deeper holes without causing any risk to the operator or the area. It is designed for precision and is quite an innovative, durable, and sustainable tool. We do not suggest you purchase this and the jackhammer drills. It would be more feasible if you rent the two.
(XIV)Buzzsaw
Also known as a circular saw, this one is useful for cutting wood or other material when installing your own radon mitigation system. It is an electronically motored saw consisting of a round metal disk with a sharp serrated edge. It offers extra power and performance and is useful for more striking projects. 
---
Frequently Asked Questions for DIY Radon Mitigation Systems: FAQs
At Radon Gas Detector Reviews, we make sure that our readers get answers to all their questions. So if you are unclear about anything, here are some quick FAQs about the best DIY Radon Mitigation Systems:
Q1.Is it OK to live in a house with radon?
Although no levels are considered safe, four pCi/L and below are harmless. Any number above this is actionable and is said to be dangerous to both human and animal health. Also, if you or anyone in your house is in the habit of smoking indoors, the smoke that accumulates inside adds to the potential dangers. So, it is never recommended to stay in a house that has high radon levels. Radon is colorless, odorless, and an invisible threat to your well-being, increasing the risk of severe respiratory problems or lung cancer in critical cases.
Q2.Can you reduce radon by opening windows?
Opening windows certainly improves air circulation and ventilation. It helps radon move out of the house and mixes the radon-free outside air with indoor air, nullifying the effects of the hazardous gas inside. Moreover, opening the basement windows also helps in reducing the negative air pressure, diluting radon with clean outdoor air.
Q3.What to look for in a radon mitigation system?
It would help if you considered the following factors when choosing your radon reduction system:
Foundation type

House size

Installation cost 

System operation

Level of the initial system
Q4.Can you install your own radon mitigation system?
In most cases, if you are relatively handy and have carpentry, plumbing, and electrical skills, DIY installation is an excellent option. You can install your system over the weekend or just in a day or two and save yourself a thousand bucks on professional services. 
Q5.Do radon mitigation systems really work?
Radon mitigation systems indeed work well. These are not just a fad. Investing in a quality mitigation system helps reduce radon levels in your home by up to 99 percent. 
EPA recommends homeowners test for radon at least twice or thrice annually to keep a check on the levels. Take preventive measures if the radon levels in your home are confirmed to be four picocuries per liter (pCi/L) or more.
Q6.Despite being DIY systems, why hire professionals?
A qualified contractor is well-equipped for the associated tasks. They know what they are doing and can provide you with better, quick as well as quality services. They have the proper equipment and technical know-how to help you in the best possible manner. 
Q7.Do radon fans run continuously?
It is best to keep the fan running even if you are going to stay out of your home for an extended period. Why? It is in just a few hours that radon levels can go back to the pre-mitigation levels if you turn off the fan. Moreover, ground moisture will cause premature fan failure after entering the bearings and motor. We are sure you would not want that to happen.
Q8.How much do these systems cost?
Depending upon the current situation of your home as well as the existing system, the cost can be as low as $800 or go anywhere up to $1600.
Q9.How can you know if the system is working?
Mitigation systems are installed with u-tube monitors on the pipes with a vinyl tube plugged on one side. The suction produced by the fan pulls the fluid up to the side of the hose connected to the pipe. The difference in the height of the two fluid levels shows the actual suction caused by the fan in units of inches of the water column. So, if the two-fluid columns are leveled, the radon fan is off or not in working condition and needs to be turned on or repaired.
Q10.Do radon systems need maintenance?
Very much like the chimney or furnace in your home, radon mitigation systems need some occasional maintenance work as well. It is nothing too strenuous, but the process will make sure that your radon system is running smoothly.
---
Final Words for DIY Radon Mitigation Systems
Think before you go for DIY Radon mitigation. If you can follow the steps above then you can definitely do it y yourself.
Most often it is seen that people like to have a professionally installed system but test the system properly. A long-term Radon detector is, of course, a good choice.