Climate control is essential for every house, business, institution or industry. This is where the role of an HVAC installer comes into play. They have a quite significant job in the heating, ventilation as well as the air conditioning process. Their demand gets particularly high in the real estate sector. They are majorly responsible for the installation of HVAC units and help maintain comfy temperatures inside a building. So, here's an introductory guide on who are HVAC installers, how can you become one and how to keep honing your skills with each passing day. To know if the HVAC installation career is for you, here's a closer look at the life of HVAC installers.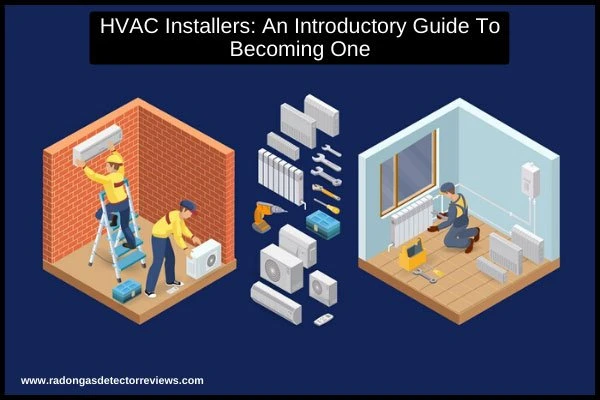 Who is an HVAC Installer?
An HVAC installer, also known as an HVAC mechanic or technician is a comfort controller. This is a person who specializes in working towards controlling the air quality inside buildings. The expert might work in residential areas, schools, hospitals, commercial spaces, and factories, etc. They primarily work on heating, cooling, and refrigeration as well as ventilation systems in a property. This means you might have to work on repairing existing systems as well as working on the newer ones but not necessarily. Some of the HVAC installers prefer working particularly as maintenance technicians helping troubleshoot the system so it functions efficiently. If you want to become an HVAC installer, you must have sound knowledge of how to make a property retain its warmth during winters along with its coolness during summertime. Moreover, using the required tools and optimally disposing of chemicals is also a part of the job.
Job Description
The responsibilities of an HVAC installer are quite challenging. However, depending upon the type of job in hand, your duties might differ. Your responsibilities include but aren't limited to the following:
Travel to the worksite/ call site
Telephonic conversations are quite evident
Understand the customer's requirements and accordingly handle the HVAC system
Determine if the unit is operating optimally
Install electrical arrangements (any circuits or components)
Take care of supply lines, air ducts and other related connections
Recommend or perform usual maintenance procedures such as changing filters, oiling, cleaning, refilling refrigerants, vacuuming or power-washing, etc.
Repair or replace the system (whatever's required)
Measure dimensions
Prevent or stop leakages
You are expected to work with different hand tools as well as advanced tools while staying in adherence to governmental rules and regulations.
It is also obligatory to properly conserve, recycle or dispose of refrigerants as well as other fluids.
You may have to secure insulation, wrap pipes, cut or bend tubing, test for leaks and ascertain the configuration in all ways.
HVAC installers also test and install thermostats to ensure minimal energy is used in both commercials as well as personal complexes.
You will also have to interpret designs, diagrams or blueprints.
This is ideally how the day of an HVAC installer looks.
Essential Skills
The job of an HVAC installer has a specific skill set/ characteristics. Here are the top 5 of those:
Attention to details
Reliability and a go-getter attitude
Analytical thinking
Be able to work independently
Is a team player
Talking of these in detail and many more…
Expertise: You must be skilled enough to operate complex machinery or equipment. Moreover, being familiar with the tools, materials as well as methods is a must.
Physics: A basic or advanced use of the laws of physics plays a vital role in the HVAC industry. Having the related knowledge is necessary to understand the principles, application, and interrelationships of these mechanical and electrical processes.
Monitoring: Careful observation is required to be able to fix systems precisely. Keep a close check on all of the indicators to ensure the system's efficacy.
Strength: You may need to elevate or handle heavier objects so your physical strength matters too.
Punctuality: Time management is an indispensable skill. Take calls without delay, make visits on time, complete your tasks timely, and provide 100% customer satisfaction but not at the stake of efficiency.
Customer Satisfaction: Pay attention to making your customers happy so they call you back in case of any requirement. Appear approachable, be good at communication as well friendly.
Troubleshooting: Problem-solving skills are again necessary. Be very much logical and organized in your approaches as troubleshooting comes in handy when you are testing or repairing a system.
Technical Know-How: Your job might require you to use industrial software, computer-aided design tools, technical plans, etc. So, as an HVAC installer, you must be technologically sound.
HVAC Technician vs. HVAC Installer
An installer is still a technician but certain specs mark the differences and are worth mentioning. HVAC technicians can perform a wide range of tasks including installation, repairs as well as maintenance. However, HVAC installers take up only specific tasks that are mounting the system and focusing on the related stuff. But, this doesn't mean that you as an installer would not or cannot perform other duties. You must be aware and well versed with all things HVAC though installation is the core specialization.
Furthermore, the working schedules of the two differ. Since technicians are working more at homes and business premises, their schedules must align with the client's vision. Plus the urgency is any case requires them to be present right at the call time. However, this provides stable work all through the year. Installers, on the other hand, can fix their schedules according to their availability since it can be a little time-consuming task but the calls are less stable throughout the year.
HVAC technicians get maintenance jobs whenever a customer's unit malfunctions. An HVAC installer, however, gets a lot of work to do while installing a new system or during renovations/ reconstructions. HVAC installers gain more opportunities in the construction sector and the technicians get more work at business complexes or at homes where existing systems need repair or maintenance.
Neither of these has an advantage over the other, they simply have their unique roles and responsibilities. For instance, HVAC installers are more in demand when the economy is flourishing with newer properties being built and systems having to be upgraded. HVAC technicians, on the other hand, render services anytime the unit breaks down or needs an urgent fix.
Salary Package
Typically, an HVAC installer has to work for around 40 hours per week where the schedule pretty much varies and depends upon the contract, demand as well as weather conditions. There are all sorts of persons in this profession. From being a newbie to an experienced installer, you'll find them all. So on average, the hourly wages can range from $13 to $35 depending upon the level of expertise as well as educational qualification. According to a U.S. Bureau of Labor Statistics (BLS) survey, the average hourly wages of an HVAC professional is $23.2. This may greatly vary if you are a trainee but depending on who you are working for, you may have the opportunity to even get overtime pay. However, in comparison to all other career choices, HVAC installers may or may not make it to those top-ranked options.
One of the ways in which you can achieve better working conditions as well as the salary package is through a valid and eminent certification. Another best way in which you can increase your pay as an HVAC installer is by moving to a high-paying state. If your circumstances allow, this can be a great career boost. Switching industries is also a great option since not all types of industries pay the same way to an HVAC technician or installer. So, you can find the one that's more relevant to your needs and experience.
State-wise discrepancies are largely observed due to temperature differences or the standard of living in that particular location. The pay scale always goes high in places that either remain too warm or get too hot. Higher the cost of living, the greater the remuneration. The skills of an HVAC installer are priceless and so the estimated costs are calculated. Moreover, if you are an experienced installer, you naturally gain more opportunities thus earning higher. At this level, you are either a supervisor or a small-scale business owner. It eventually works in your favour and creates brighter possibilities. However, only the top 10% of the individuals make it to this salary range and specialization. The bottom 35% make between $13 and $17 per hour at junior-level posts. If you are someone with no experience, there are cases in which you might make even less than $13 per hour. However, at the mid to senior level, HVAC installers make an estimated $22 – $28 per hour.
How To Become an HVAC Installer?
Yours is a complex technical field where installations, as well as repairs, require functional training. To become a successful HVAC installer, here are a few steps you'll have to follow:
Complete your high school degree
On-the-job training isn't everything – education is equally important in an occupation like yours. You might not realize it now, but not having met with your educational qualifications restricts your future prospects. Today, most of HVAC professionals start by completing their high school degree or additional training programs. Even if you are willing to prepare for longer programs, the training begins right at school where you clear your math and physics concepts and also strength train in the face of sports. Once your formal education is done, you can move on to further steps.
Take up a training program
If you are interested in becoming a professional HVAC installer, you must get admitted to a college or university that matches your requirements. Your budget, the field of study, accreditations, job placements, career fairs, on-campus events, internships, expert faculty, etc. are a few aspects to look out for. While completing the program, you get to know about technological advancements. Not just that, you are also taught to examine a defective system, read diagrams, replace fuse or breakers, troubleshoot problems, and even check the electricals. University training clears your basics, so when you start practising, you know what's what and how's how.
Pursue apprenticeship to get experience
Apprenticeship or on-the-job training is one of the most preferred ways of all time. While others may prepare themselves by enrolling in accredited programs, a significant number choose to directly move on to entry-level positions right after their schooling. This is formally required to reach higher levels of pay scale or position. Plus, there are state-wise rules and regulations to pass the test relating to age, education, skill set and so on. So, be very careful about that.
Obtain necessary state licenses and industry certificates
To make it big in this occupation, you have to give yourself at least 3-5 years. This typically includes training with practised workers as well as independent on-the-job experience. Several people even make it to high-paying jobs in about 2-2.5 years, so it's quite a subjective topic to talk about. However, it's only after acquiring relevant licenses that you get better pay and of course move beyond just being a trainee or apprentice. This builds up your success ladder plus instils others' confidence/ trust in you.
Having a license is not necessary for all states and it also depends on the type of work you undertake. If you are rendering services under a contract, he needs to maintain all of the required certificates and permits not you. But, if you plan to eventually work up all by yourself then get that license ASAP.
Continue additional degree program
In a 2017 survey conducted by O*NET OnLine relating to HVAC technicians, almost 55% of the HVAC technicians held post-secondary certificates before starting their careers as professionals. So, it is important to go ahead with additional learning even when you are on the job. This will only enhance your skills and prepare you for a competitive boost.
License and Certifications
Each state or city has its own HVAC licensing and certification laws. These pertain to refrigeration, air conditioning, cooling, ventilation, system installation, repairs as well as maintenance. In the United States alone, the industry employs 400,000+ HVAC technicians and the demand is said to increase with each coming year. The skills and certifications are majorly a deciding factor. And, these just add on to your experience as valuable benefits (pay scale, trust, etc).
But, if you ask whether or not you require any kind of certifications for the job, the answer is no. Licenses and certifications aren't mandatory in every state, however, the local laws and requirements differ. Having a license simply shows how trained or qualified you are for the job. Moreover, after passing the required examinations/ tests, you demonstrate the know-how of the trade. Several U.S. states make it mandatory for an HVAC professional to obtain a license before independently getting into the field. This way, you are better able to demonstrate your skills and have a competitive advantage over others. If in case you plan on starting your own business, these certificates help bind the trust of your potential as well as existing clients authenticating your capabilities.
Having a high school or graduation degree must be necessary for you to progress in this field. Talking of professional credentials, for instance, all technicians who are to deal or work with refrigerants must be formally certified by the U.S. EPA (Environmental Protection Agency) for properly executing refrigerants. Several different courses allow you to excel in your choicest field and you can take these either through self-study or simply by joining a recognized institute.
Even when talking of future prospects, HVAC is a growing industry where being licensed and certified will only set you forward.
Future Prospects
The Bureau of Labor Statistics (BLS 2019) confirms in a survey that there'll be an increase in the need for qualified HVAC professionals. They indicate a 13% growth in the nationwide openings by 2028. Climate control has gotten more affordable since the amalgamation of HVAC and IoT. Consumers are becoming more energy conscious and there's an inducement for installing new systems or replacing existing structures. Therefore, there is a need for well-informed and skilled technicians who can cope with sophisticated equipment and automated technologies. Apparently, future prospects look bright and challenging. There are only more advantages of getting into the field than any downsides.
I hope our article helps you understand what it takes to be an HVAC installer and how you can become one. Leave us a comment below if you are looking for more details. We'll be happy to help!