Radon is a cancer-causing invisible gas commonly found (almost) everywhere in the United States and Canada. It is also amongst the 2nd leading causes of lung cancer, even in nonsmokers. Unfortunately, radon is also odorless and radioactive, and testing radon is the only way to determine the amounts you may be exposed to. However, this gives rise to a very valid question – can home radon tests be trusted? Well, let us find that out!
What Affects A Radon Test? Why Do Radon Levels Fluctuate?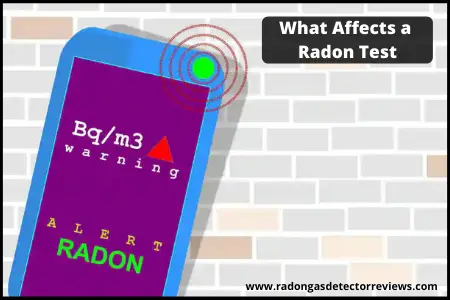 Type of Errors
Usually, you will see two types of errors on your radon test kit or detectors: False Positive and False Negative. What do these mean? False Positive means your equipment can test higher than usual or the accepted radon levels. The instrument can show results of more than 4 pCi/L, leading you to invest in mitigation systems and worry more. However, False Negative is a bit of a dangerous inaccuracy as the kit or detector can test negative. The instrument shows lower levels than usual or average. For this reason, you must invest in a mitigation system and keep the levels under control at all times. 
Factors That Affect Radon Testing 
Radon levels constantly keep changing, and you will always observe seasonal, daily, and even hourly fluctuations. Don't be alarmed if you have tested multiple times and received differing results. Many factors can contribute to the variations, and here we list some common ones so you can accurately test your home radon levels the next time. 
Weather 
Current weather conditions are amongst the most common or the primary factor affecting radon levels in your home. Changes in humidity and pressure can impact the results. For this reason, it is best to avoid testing in high winds, rains, or chilling winters. The best time of the year is to test in summer or spring to get accurate results. 
Home Appliances 
Home appliances such as bathroom fans, central vacuum cleaners, dryers, furnaces, open wood fireplaces, oven vents, space heaters, and water heaters interfere with testing. These machines introduce new air from outdoors and puzzle the radon levels inside your property over time. 
Kit Placement 
As radon comes from decaying uranium, it is mostly found in the lowest levels of your home. Thus, if the radon testing kit isn't placed correctly, i.e., in the right location, and the protocols or installation guidelines aren't followed, the test results can be inaccurate. You can set the kit or detector in your basement, raised at least 2 inches off the floor, encompassing around 4 inches of circulation space, and never under direct sunlight or humid areas. 
Test Duration 
Since a lot of factors can impact the test results, considering the duration only makes sense. Short-term tests can measure your home's current radon levels, whereas long-term digital devices provide an accurate measure at an increased cost and time. It means that the test results can fluctuate based on your testing duration and the testing method. The short-term passive kits are designed to test over 3 to 7 days, whereas digital devices can test for up to a year while giving you a bigger picture and not just a snapshot. 
Other Interferences
Do not move the device, open doors or windows too frequently around the equipment, or mail the kit after the stipulated timeframe. All these are only interferences for the test results to show up accurately. House constructions and even rain-soaked ground can be a problem. Besides, never hire an inexperienced radon contractor or install a poor-quality mitigation system. 
What Can You Do? 
Radon testing can go wrong. There may be no perfect system, and there can always be room for inaccuracy. However, this should not stop you from testing your space and ensuring the health of your loved ones. There are ways to get reliable results, and let us quickly brief you on those:
To start with, you can test twice to double-check whether the levels are constant or if there is a mistake. It is especially necessary if you are using a short-term passive kit like the First Alert RD1 radon gas test kit or even if you have a radon mitigation system installed.
Next, you can try on a long-term, digital testing device if you are still worried about the fluctuations. An electronic measuring instrument such as the Corentium Home 223 Radon Gas Detector can be handy, reliable, and also DIY. You don't have to send it to a lab and wait for the results. The waiting period is when the device works to measure the radon levels in a particular area and displays the results on the screen. But, it can be a stressful experience and also a lot to ask for.
Finally, if nothing else works, you can contact a qualified radon professional near you for testing, mitigation, and consulting services.
While acceptable radon levels may be 4.0 pCi/L, any levels can be dangerous over time and for vulnerable kids, pets, or adults. Installing a radon mitigation system will not be wasted and will only keep you safe, especially if you are in a radon risk zone. 
Radon Testing For Your Home
If you have never had your home tested for radon, now is the time. Get yourself a licensed, good quality, and professional-grade home-use radon test kit or an electronic radon gas detector. If testing yourself seems daunting, contact a professional and have them perform the relevant inspections. An expert can also suggest how to make your space radon-free. If a DIY test excites you, check out our best radon gas detector reviews to make an informed choice. Some of the best detectors are listed here – see for yourself, and we hope you have a pleasant experience buying the best device for your home.