Workers who aspire to pursue a flourishing career in the HVAC industry must acquire some level of expert training to progress beyond their status of just an assistant. You can train yourself by attending a school and gaining a more profound knowledge of the theory behind all of the fieldwork. However, learning experience through an apprenticeship has its advantages. This is where you put your skills and knowledge to the test. An apprenticeship gives you hands-on experience as you work with industry professionals, perfect your craft, and also earn to fund yourself at the same time. The mentors pass on their tips and tricks to prepare you for what is to come. So, before you lock your options, here is a guide on all-things-HVAC-apprenticeships.
How Do HVAC Apprenticeships Work?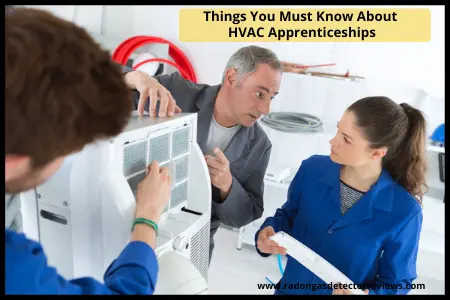 Gaining technical knowledge before you begin your career is very much essential. So, an apprenticeship helps you receive those additional benefits in terms of skillsets and know-how. You obtain more information about refrigeration, heating, plumbing, pipefitting, and electrical work. You are aware of the installation, repair, as well as maintenance of equipment. You specialize in safety practices and equip yourself to correctly use the tools along with computer-assisted drafting (CAD) programs.
You can be a little too young to start in the HVAC industry, but you can never be too old. When it comes to succeeding as an apprentice, it is more about your attitude and dedication than just your age. If you are self-motivated and have the stamina to complete the projects, success is not too far.
The process of acquiring an HVAC apprenticeship is highly rewarding and competitive. The openings come up only after a few years, and a handful of seats receive hundreds of applications in hopes of securing the desired spots. However, authorities are quite selective about who they give opportunities. The officials or schools spend a lot of time and money, to make sure the deserving ones are put onto successful career paths.
Specializations
There is variation in every HVAC apprenticeship program. Specializations may include:
Estimator
Project management
Instruction or education
Air testing and balancing
Designing HVAC systems
Sheet metal or duct workers
Steam or pipefitters
Refrigeration mechanics
Industrial controls technicians
Equipment and supply vendors
Commercial or residential heating and cooling
Installing, repairing, or maintaining traditional systems
Installing, servicing, repairing, or maintaining alternative energy systems
Most apprenticeship programs reflect the local residency requirements, teaching things that are common in the region, and how to stick around those needs.
All of the HVAC apprenticeship programs constitute two significant components, including classroom training and hands-on experience. Classroom sessions cover electrical theory, the refrigeration cycle, as well as job safety, and handling of hazardous materials or peculiar tools. The study time varies from 576 to 600 hours. It is also mandatory for you to pass the necessary exams and qualify for industry specifications.
The secret sauce to a successful apprenticeship is by directly applying the theoretical knowledge to the field, thus perfecting your craft.
Usually, an apprenticeship program lasts for about five years, which is quite a long time. You might feel a change from when you started to when you end the program. But, that is what the program teaches you – to be trainable and also adaptable.
What are the Benefits of HVAC Apprenticeships?
When you decide on taking up an apprenticeship program, it allows you to gain valuable skills as well as experiences. So, here are some of the key benefits of acquiring an apprenticeship:
You adapt newer techniques while working under an expert
It allows you to also earn money along with a certification
It gives you a head start on the career you are choosing
You work with people from the trade, and gain insight into the industry environment
You have the leverage to select your trainer as well as the employer
If you fulfill the eligibility criteria, you may be entitled to some Federal Government incentives as well
You are better able to understand the industrial blueprints, designs, and drawings
Plus, it does increase your pay scale sooner or later
You learn the fundamentals and components of refrigeration, ventilation as well as air conditioning
The program also helps you in identifying the various tools and materials used for each job
You get well-versed in the concepts of servicing and cleaning the systems
The apprenticeship can lead you to positions like that of a salesperson, estimator, project or office manager, lead installer or technician, and more. The program, if nationally recognized (especially by the Bureau of Apprenticeship and Training), provides you with a competitive opportunity in the job market.
How to Get an HVAC Apprenticeship?
Undertaking an apprenticeship program is a crucial way to adapt to trade skillfully. It provides you with hands-on training under the supervision of a professional. However, there are some basic qualifications that you need to commence your apprenticeship anywhere around the country.
To start with, you must be at least 18 years old and have a high school diploma. This will make you eligible to apply for an apprenticeship program. Next, specializing in such trade jobs or programs requires a minimum understanding of concepts like algebra. Only when the basics are clear, you can take up the tasks more efficiently. You must have the ability to work under challenging conditions since HVAC is a demanding career choice, and you must be ready to take it all. Other than these, you must have your birth certificate, citizenship proof, valid driver's license, and pass a drug test.
Just like other university or college exams, you might also have to pass a written test to meet the eligibility criteria of an HVAC apprenticeship. The examination would ideally cover English, math, and troubleshooting skills test. It is like an entrance test that decides whether or not you will be selected for the program. The tests are conducted after collecting a nominal exam fee.
What Are the Other options?
You can also contact a local HVAC firm to find out if they are accepting any apprentices for work. If not, you can enroll in a community college that provides you with placement options. Even the U.S. Department of Labor enlists several nationally recognized programs to provide you with hands-on training.
Each program has its own set of requirements to accept you as an apprentice. But, the ones that are commonly asked for include the things mentioned above. Besides, you must be physically fit to take up such trade jobs and perform to your fullest potential.
In most places, apprenticeship is not necessary. However, that is the preferred way of acquiring crucial skills and learning the craft from the experts themselves. One that offers you hands-on training and also classroom instructions to kick-start your career is the most suited program.
How Long Does The Apprenticeship Last?
Well, each apprenticeship program is different – they all vary in levels and length. The duration can also differ from one state to the other. Where, on the one hand, apprentices may commit to a set number of hours, while others might simply go by the year-wise plan. Depending upon the industry you are working for, your capabilities as well as the level of the program, the duration can vary from one year to five years.
So, for instance, Level 2 i.e., an intermediate apprenticeship, usually goes on for 12 – 18 months. However. a Level-3 advanced program would take about 24 months. If it is a part-time project, the duration obviously increases. That is not all; some of the apprentices are required to commit 3,000 on-the-job clock hours before getting licensed or applying for certification examinations.
HVAC training is usually longer than other programs. The time is split based on the state-wise requirements to provide you with complete and necessary information about your chosen career.
Need For Licensing
Since apprenticeship is a new concept in this field, an apprentice is usually not required to obtain a license for this program. Your mentor, however, will be a licensed professional to thoroughly and closely monitor your tasks. He will also be responsible for filling out the required forms and supervising your work.
Salary Package
Salary packages vary across the country for apprentices. Just to give you an idea, the starting salary can be anything from $0 to $10 per hour if you are a beginner. But, as you gain experience, the pay can increase to $18 per hour. By the fifth year, HVAC apprentices start making around $25 per hour and receive incentives with time. You might think that initially, the package is quite insignificant, but it is like learning and earning, both at the same time rather than working for free.
Salaries also vary on factors such as your skills, location, specialization, and more. According to the Bureau of Labor Statistics, entry-level apprentices earn around $25,080 per year, whereas, with an increased level of expertise, apprentices start making $50,160 per year.
Apprentice earnings vary according to the areas you prefer working in. Climatic differences impact your salaries and the direction of training. For instance, if you are apprenticing in a humid area, your training would concentrate more on ventilation systems. However, the training would focus on cooling systems if you are in desert climates. If you are in a place that receives heavy snow and remains bitterly cold, you have to gain more understanding of the heating systems. Any adverse conditions will impact your earnings, especially if overtime is available in any situation.
You would start on basic principles, but as you move forward and specialize in your choicest field, the salary structure would change. Acquiring advanced certifications increase your potential as well. So, if you are capable of working on commercial systems, your pay scale is undoubtedly going to be than most others. If you are a troubleshooter, you will earn 5% more than the technicians who lack the ability. Electronic literacy, too, gives you an advantage over your counterparts. You can opt to specialize in a preferred field or do everything – all these decisions can affect your employability in numerous ways.
Future Prospects
Once you complete your apprenticeship, a wide variety of options open up. You can start a job at an established HVAC organization or, if experienced, start your own business. As per your needs or preferences, you can take up either commercial or residential HVAC projects. For service technicians, the sky is the limit. So, you can expect your career to flourish with patience and dedication by making informed choices.
You can also set out on your own as an HVAC contractor as time passes by, and you gain the required expertise. This will significantly enhance your skills and also offer you the opportunity to make more money. Just make sure you have the mandatory licenses or certifications as per your state authorities. These are more or less business as well as contractor licenses, which would indicate that you can efficiently govern business and take the company to greater heights.
Want to Gain Hands-On Experience? Start With an HVAC Apprenticeship!
While it may seem to be an old-school idea, apprenticeships are still one the best ways to earn while you learn. You get the opportunity to gain valuable insights into the industry and perfect yourself by being among the industry magnates. Your classroom knowledge will continuously be put to challenge to help you understand real-life scenarios. This way, you will keep refining your craft over time.
You might start by lugging small or heavy tools, but soon, your journeymen will directly and independently involve you in crucial projects. So, you better pay attention to each of their tricks – who knows you might be the one next performing the task. Trade jobs are such – you learn by working firsthand. Having a master trainer by your side significantly prepares you for the HVAC industry.